BLACK FRIDAY 2018
RECORD STORE DAY BLACK FRIDAY IS NOVEMBER 23RD: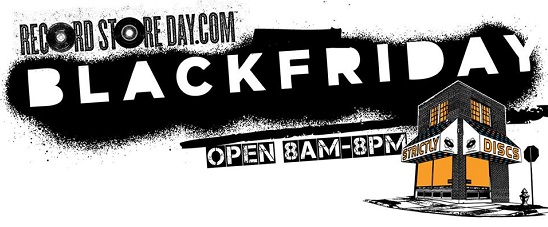 Strictly Discs will be the place to be this Post-Thanksgiving-Shopping-Melee-Day, also known as Black Friday.

And that's because certain indie stores across the country will be the place to get special releases created just for you, for giving and getting this holiday season, and they're scheduled for release on Black Friday, November 23, 2018.

Now, this is not Record Store Day, Jr., but it is brought to you by the powers-that-be at Record Store Day. This is a group of special releases you can only find at certain independent record stores nationwide. The magic of these pieces (many uber-limited) is that every one of them is something someone will really LOVE to get, and you'll really ENJOY giving. And you may have the added nice feeling of supporting a local, independently owned (Strictly Discs, Independently Owned since 1988) business during the holidays.

We'll be operating our Record Store Day Black Friday wish list / request system the same way as year's past, So please feel free to make your requests after logging into your account (or creating an account). A wish is not an order. And while we will try to have ample stock (one of the deepest in the midwest) of all items, please know that some of these products are extremely limited and will sell out quickly.

We will do our best to have ample stock of all Record Store Day Black Friday releases. The status of your requests will be updated within our system prior to November 22, 2018. We expect that you will be in the store on November 23rd to pick up any requested items. If you are unable to be here that day or want us to send any remaining stock after Record Store Day, please email angie@strictlydiscs.com now to make those arrangements. Thank you!


7" RELEASES:

10" RELEASES:

12" RELEASES:
| | |
| --- | --- |
| | |
| | |
| | |
| | |
| | |
| | |
| | |
| | |
| | |
| | |
| | |
| | |
| | |
| | |
| | |
| | |
| | |
| | |
| | |
| | |
| | |
| | |
| | |
| | |
| | |
| | |
| | |
| | |
| | |
| | |
| | |
| | |
| | |
| | |
| | |
| | |
| | |
| | |
| | |
| | |
| | |
| | |
| | |
| | |
| | |
| | |
| | |
| | |
| | |
| | |
| | |
| | |
| | |
| | |
| | |
| | |
| | |
| | |
| | |
| | |
| | |
| | |
| | |
CD/CASSETTE/MISC RELEASES:
| | |
| --- | --- |
| | |
| | |