RECORD STORE DAY 2018 PART 2:
RECORD STORE DAY 2018 - THE LIST (CONTINUES ON 2 PAGES):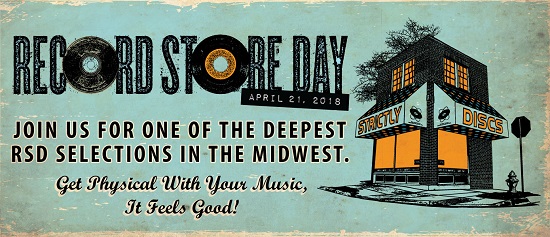 12"/LP RELEASES:
4LP boxset - Recorded July 3 & 5, 1970
Limited to 3000
$64.99

WILL'S PICK:
The Mars Volta's Cedric Bixler-Zavala returns for this psychadelic-punk-raga collective's second full-length!
Limited to 1500
$18.99

BEN'S PICK:
The first time I had ever listened to the beautiful albums by David Axelrod I realized I was already familiar with his music. His music has been sampled so heavily over the years by hiphop producers, electronic artists, and even rock artists. One of my favorite songs by DJ Shadow on his seminal "Endtroducing" album is centered around a sample from this album. This album touches on almost every style of music and the lush arrangements make for a unique listening experience.
Limited to 2375
$26.99

RON'S PICK:
BEN'S PICK:
Endlessly sampled by hiphop DJs and covered by soul singers, this "larger than life" psychedelic soul singer suffered a heart attack while recording his debut album in 1970. This release is straight from the original analog tapes and includes a bonus LP of unreleased instrumentals.
$34.99

Picture disc
Limited to 1800
$23.99

MARTY'S PICK:
If all you knew of the Beau Brummels' were their mega hits, "Laugh Laugh" and "Just A Little", it would be easy to write them off as just another Beatles wannabe. They developed into a band that effortlessly combined folk rock with soft psych in way that left the Byrds envious. "Bradley's Barn" was their crowning achievement and leaves you wanting more, unfortunately the band split up shortly after its release.
$31.99

ISAAC'S PICK:
Chuck Berry IS Rock & Roll. In order to appreciate new innovations in modern music, it's good to go back to the basics. This release has all of his best tunes and is a great introduction to neophytes of classic rock.
Limited to 1350
$24.99

MARTY'S PICK:
The electro-pop duo reimagines some of Hall and Oates best loved songs with enough originality to make it compelling but close enough to the originals to keep the heart alive. Inara George's (The Bee) voice brings a soft charm to the whole record. It's like a guilty pleasure wrapped in a guilty pleasure but the truth is, these songs are great and The Bird and The Bee really do them justice.
Limited to 2500
$21.99

ANGIE'S PICK:
A stellar tracklisting fills this 3LP live set from Bowie's coveted Low & Heroes era.
$48.99

BEN'S PICK:
This one alone is worth it just to hear the extended guitar jams by the rhythm guitar master Nile Rodgers and the explosive soloing from Stevie Ray Vaughn. This album was considered a stepping stone for Stevie Ray Vaughn and lead to a major jump in his career. The b-side features a live version recorded in September of 1983.
$13.99

MATT'S PICK:
No more chasing the elusive and all-too-brief original EP. Now on 4 full LPs instead of 4 single tracks, these recordings finally get the release they deserve.
4LP boxset
Limited to 2500
$69.99

5LP boxset
Limited to 2500
$69.99

3LP boxset
Limited to 250
$68.99

BEN'S PICK:
Singer/songwriter Nick Murphy, formerly known as Chet Faker, has made a name lending a voice to many different electronic producers' music, most notably with Flume on his self titled debut album (Note- Flume's album is also a RSD release and not one to be missed) This is the 2012 debut album by Chet Faker and it included a fantastic version of "No Diggity" which sounds like it could have been spun by Kruder and Dorfmeister.
Limited to 2000
$23.99

4LP boxset
Limited to 2000
$48.99

RON'S PICK:
ANGIE'S PICK:
Gene Clark backed by the Wrecking Crew including Leon Russell and Glen Campbell is enough for me to know this will be good.
Limited to 1300
$18.99

Picture disc with comic
Limited to 2700
$26.99

MICHAEL'S PICK:
The Alaskan composer's harmonically dense piece for multiple cellos is meant to evoke "parhelia", an arctic solar illusion of multiple suns. Here, renowned cellist Oliver Coates overlays himself 16 times to achieve the effect.
Limited to 550
$16.99

Picture disc
Limited to 700
$23.99

EVAN'S PICKS:
The Durutti Column's third album, originally released in 1983, solidified Vini Reilly's status as the group's leader, condensing the anarchic beauty of their earlier albums into an even more restrained, poignant form of art-rock. While probably the first album on Factory to feature cor anglais, 'Another Setting' retains something of punk in it's resolute delicacy.
Limited to 400
$35.99

RON'S PICK:
MICHAEL'S PICK:
The coiner of ambient music collaborates with wall of noise gargantuan (of My Bloody Valentine). It's easy to be confident that the duo will push each other towards something great.
Limited to 5000
$14.99

Picture disc
Limited to 3500
$23.99

ED'S PICK:
First time released as a full soundtrack on LP, this record includes one of Serge's most well-known tracks, "Requiem Pour Un Con" (in my top 5 for sure). A great look into late 60s French psychedelic pop.
MICHAEL'S PICK:
Recorded at the front end of Gainsbourg's best known period, circa his involvement with Brigitte Bardot, this soundtrack is bound to exhibit that familiar creative slickness that defined 60s French culture.
Limited to 1000
$33.99

RON'S PICK:
BEN'S PICK:
One of the most expressive, soulful, and deeply funky jazz guitarists, Grant Green delivered a number of classics throughout the 1960s and 1970s. His live album from 1972 "Live At The Lighthouse" is a masterpiece. This year there are two RSD releases that showcase how electric he was as a live artist. One set features his work in 1969 and 1970, the other in 1975.
Limited to 1500
$68.99

BEN'S PICK:
RYAN'S PICK:
There's a reason that Grant Green's discography is slim upon his departure from Blue Note in the early 70s. His best days were behind him and the few albums that came out were saccharine and tepid. This unearthed live date from '75 looks promising and features tunes singular to this album. Put out by the good folks at Resonance, responsible for 2017 RSD's terrific Wes Montgomery live date and a whole host of expertly-archived unearthed jazz dates.
Limited to 1500
$47.99

MATT'S PICK:
2017's psychedelic contemporary jazz/R&B masterpiece "Green Twins" guarantees a sure-fire winner in this hook up. One of the most exciting new voices on the scene today.
$13.99

The Alternate Liberty/U.A. Years 1970-1974
Limited to 2300
$28.99

RON'S PICK:
Limited to 500
$34.99

MARTY'S PICK:
This album shook my little suburban world when it came out in 2000. Fantastic harmonies, catchy tunes. This is what Rivers Cuomo would have sounded like if he was born in Texas. It still holds up as the best release in Kweller's catalog.
$22.99

RYAN'S PICK:
As the 80s closed out, Living Colour emerged as one of the most dependable live acts around. Check their SNL appearance for proof. Powered by former Ornette Coleman axeman Vernon Reid, the quartet was already well-seasoned before they seemingly burst onto the scene. This captures them at the height of when "Vivid" was ruling the world and had them pointed for bigger things before the Puget Sound got a stranglehold on adventurous ears.
Limited to 3000
$24.99

EVAN'S PICKS:
Senegal's Cheikh Lo released his solo debut on cassette in 1995, after spending many years in the famed Burkina Faso collective Volta Jazz. 'Ne La Thiass' is a timeless album of mbalax-tinged Afro-Cuban Jazz that never, ever goes out of style, and this is the first time it's available on vinyl.
Limited to 500
$20.99

RON'S PICK:
Limited to 1250
$29.99

Picture disc
Limited to 5300
$20.99

MARTY'S PICK:
The late George Martin always considered himself a composer and arranger before he did a producer. Even while working with the Beatles he was putting out symphonic versions of their works. Originally released in 1974, "Beatles To Bond To Bach" is more fitting as a retrospective. Lush arrangements, seamless medleys, it is a beautiful work with familiar songs. A symphony orchestra peppered with electric guitars and smothered in George Martin's charm, what more could you ask for?
Limited to 2500
$27.99

ED'S PICK:
Never before released on vinyl, this soundtrack is a welcome addition to anyone's Morricone collection. Haunting string arrangements, wordless vocals featuring the amazing Edda Dell'Orso, and tense experimental sounds -- a must have.
Limited to 900
$38.99

MARTY'S PICK:
This was recorded over John Lennon's "lost weekend" and it was the start of Nilsson's decline. Lennon brings out some of Nilsson's best performances. It opens with a cover of Jimmy Cliff's "Many Rivers To Cross" which is so jaw dropping it is worth the price of admission alone. Though it isn't a perfect album, it is a must own.
$27.99

EVAN'S PICKS:
Italian producer Doris Norton parlayed her Apple sponsorship into quite the home studio, with which she produced this ambient electro gem from 1984. 'Personal Computer' is an album full of catchy arpeggiated proto-techno bombs, zippy vocoder, and mindbending arrangements that predate the classic 90s Warp sound.
ED'S PICK:
Experimental dance music by one of the pioneers of the 80s underground Italian music scene. This reissue thankfully includes the original (amazing) cover art (and yes, this record was "sponsored" by Apple for its initial release in 1984!).
Limited to 500
$23.99

ISAAC'S PICK:
A quintessential release for any fan of Psych-Rock in the late 60s; this Syd Barrett led iteration of Pink Floyd is magnetic and transcendant. Astronomy Domine alone is worth the price of admission.
WILL'S PICK:
An absolute classic from before the flying pigs, prisms, and David Gilmour. The original Floyd album in its original Mono form.
Limited to 6000
$23.99

ED'S PICK:
The last album by these giants of avant-garde electronic music, recorded in 1999 and now on vinyl for the first time. Meditative ambient music, on par with some of their most sought-after work of the 70s.
MICHAEL'S PICK:
This is the first ever vinyl issue of Florian Fricke's final release before passing two years later. The piece plays like a spiritual drone with repeated lyrics of oneness and occasional bumblebee buzzes.
MATT'S PICK:
Popol Vuh's final collaboration with Werner Herzog available for the first time on vinyl. Haunting blend of ambient synths, African ceremonial music and hand percussion.
Limited to 500
$26.99

4LP boxset
Limited to 1200
$79.99

RYAN'S PICK:
Done in the early 90s but still featuring the original rhythm section of Brevett and Knibb, along with the twin tenors of Tommy McCook and Roland Alphonso. Great updated versions of "You're Wondering Now" and the vital "Man in the Street" along with a muy unexpected take on avant gardist's David Murray's "Flowers for Albert." Very hip and with a much more pronounced jazziness than anything else in their distinguished catalog.
Limited to 900
$33.99

Austin Texas - December 3, 1992
Limited to 3000
$24.99

BEN'S PICK:
Melvin Sparks is a soul jazz guitarist and a certified legend of acid jazz. He has played on countless funk, soul, jazz, and blues albums and was a sideman to Little Richard, Curtis Mayfield, Sam Cooke, and Marvin Gaye. He often played with Charles Earland, Lou Donaldson, Bernard Purdie and more. Texas Twister is one of his best albums with ripping guitar solos and in the pocket drumming by Idris Muhammed. Melvin truly stood by the motto of "everything I play gon' be funky". Side note- When I was in college I brought Melvin Sparks to Madison and he put on a great show at the Rathskeller. He also came back and performed at my graduation party. He was a total class act. RIP.
Limited to 500
$26.99

MICHAEL'S PICK:
Tappy, angular guitar wizard Marnie Stern's best album toes the line between the more accessible indie rockers and the ferocious noise makers of the mid 00s. A welcome reissue with Zach Hill (Hella, Death Grips) on drums!
Limited to 400
$18.99

October 18, 1988
Limited to 2000
$34.99

New York City 1973
Limited to 1800
$34.99

ISAAC'S PICK:
This long out of print re-issue of Sun Ra on purple swirled vinyl will bring joy to any fan of swirling free jazz. Sun Ra and His Arkestra were even beginning to explore funk rhythms at this time as well, resulting in a far out experience indeed.
Limited to 1350
$24.99

ED'S PICK:
Essential "space" music from 1972, one of the first in a long list of great ambient records that came out of Germany in the 1970s. A truly immersive listening experience.
Limited to 2000
$33.99

ANGIE'S PICK:
Originally released in 1972 to encourage the values of individuality, tolerance, and the belief that every child regardless of gender can achieve anything is as timeless (and needed) as ever.
Limited to 3000
$26.99

MATT'S PICK:
A much needed compilation of less-documented post-80s Boston Hardcore scene.
Limited to 500
$18.99

Country Music's Tormented Testament: 1952-1974
Limited to 400
$25.99

Sun Records Curated by Record Store Day, Volume 5
Limited to 2750
$11.99

MATT'S PICK:
Sublime Frequencies doing what they do best. Here are 22 tracks of wild 60's Singaporean pop culled from original 45s.
Limited to 800
$30.99

ANGIE'S PICK:
The original CD boxset was titled Orphans because that is how Waits classified the collection of songs - some old, some new from various periods and styles but all orphaned without a home on previous albums. Each album is arranged thematicically: Brawlers - rock and blues compositions / Bawlers - slow tempo, meloncholic ballads / Bastards - more experimental pieces, including serveral interpretations of poems. And while they stand on their own, these orphans really belong together.
Limited to 4500
$31.99

ANGIE'S PICK:
Limited to 4500
$31.99

ANGIE'S PICK:
Limited to 4500
$31.99

RYAN'S PICK:
Welcome re-issue of a late 70s bomb funk record from the one-time chitlin circuit bluesman in the high period of his high viscosity slinky soul brother period. Mad mix of clav, talkbox and highly sophisticated fretwork, cribbed heavily by dudes from Pimp C to Roger Troutman in the succeeding years. Five to two odds that George "Iceman" Gervin kept this in steady rotation.
Limited to 1200
$23.99

EVAN'S PICK:
Because they rarely toured or even played out much locally, Portland punk progenitors the Wipers had already released two groundbreaking albums that US audiences had largely ignored by 1982. It would be another decade before Kurt Cobain would restore them to the underground canon via interview references, cover versions, and a solid effort at replicating Greg Sage's unique charging guitar expressiveness. Featuring classic and unreleased songs, this is the earliest live document of the Wipers, remastered from original tapes by Sage himself.
Limited to 2000
$23.99

WILL'S PICK:
Some classic Yes artwork in picture disc form! This album is also the culmination of the classic 70's Yes lineup, being the last before Jon Anderson's first departure.
Limited to 2800
$20.99
CLICK HERE TO FOR THE FIRST PART OF THE RELEASES!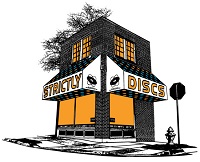 Ron, Ryan, Angie, Ethan, Evan, Marty, Matt, Michael, Ben, Ed & Isaac